Welcome!
The Arkansas Society of Respiratory Care was established in 1962. Today there are over 500 members who have discovered the benefit of the professional society. The Arkansas Society of Respiratory Care is a chartered affiliate of the American Association for Respiratory Care.

---
---

RC Week 2014!
Tell us how you are celebrating RC Week 2014. Send us your pictures and a caption and we will post it on Facebook!
David.gibson@salinememorial.org

---
---
Scenes from 2014 (43rd) Annual State Convention
ASRC President Tom Jones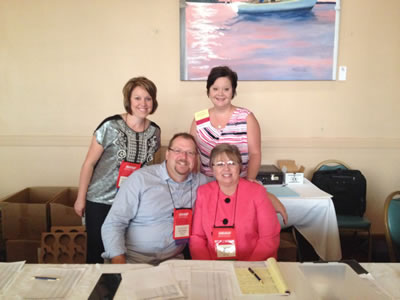 Pictured left back:  Jessica Alphin, Heather Neal-Rice, Jeff Chambers, Janelle Smith.....come on down to the 43rd Annual State Meeting
---


<<Click above to read full article>>

---

Attention ASRC Members:
The 2015 online election for our 2015 ASRC Board of Directors is officially underway! This is a very important time for our organization, and we are asking that you help to ensure that we we have strong leadership for Arkansas.
Please click on this clink to access the election: https://vod.votenet.com/ASRC
Deadline for voting: Friday, September 19th (23:00)
You will be asked for your 'Last Name' and 'AARC Number' in order to access the election.
If you have any problems accessing the election, please contact Ben Downs at bdme2143@gmail.com. Cell phone (call/text) 501-256-7501
---
---
---
The Arkansas Society for Respiratory Care would like to congratulate the following individuals for their continued support and leadership.
2014 ASRC Election Results:
President Elect – James Gooch
Vice President – Alan Clark
Secretary – Jeff Copeland
Treasurer – Janelle Smith
Delegate – Art Middleton
Central District Vice Chair – Mary Ann Winter-Herring
Northeast District Vice Chair – Janie Castro-Rios
Northwest District Vice Chair – Melina Kindred
South District Vice Chair – Chuck Burke

---
---

The ASRC mission is to provide effective leadership that promotes the Respiratory Care Profession and its skilled practitioners as leaders in the field of pulmonary medicine through patient, community and healthcare provider education.
---