Welcome!
The Arkansas Society of Respiratory Care was established in 1962. Today there are over 500 members who have discovered the benefit of the professional society. The Arkansas Society of Respiratory Care is a chartered affiliate of the American Association for Respiratory Care.

---

Earlier this week Arkansas lost a great friend and colleague, Mike "Moose" Davis. Moose served on the ASRC Board as our first Web Chairperson. He was well known and loved throughout NWA. His famous BBQ and Cajun side dishes were always a hit at many NW District Meetings.

Moose had a long career as a respiratory therapist. He worked at Washington Regional for years, then HealthSouth, and finally, Bird Bear in Springdale.

Moose is survived by his wife Linda, son Michael Davis, daughter Heather Stowers, grandson Logan Stowers.

---
---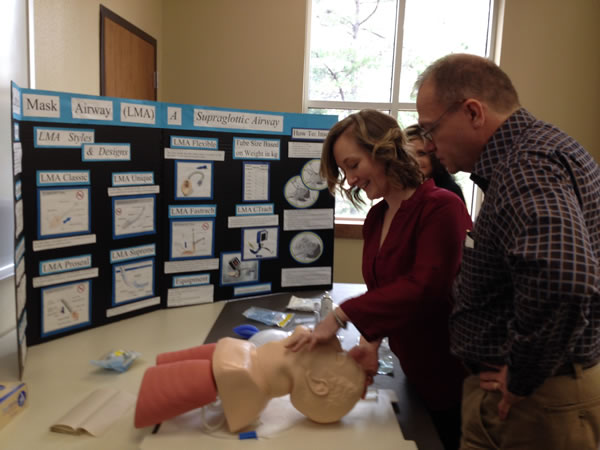 Nichole Drewry RT student......demonstrates LMA station to ASRC president Tom Jones

Kyle Robertson- chair South District (left).  Jeff Young-RT student presenting.....Shellie Akabar, RRT



Pictured is Alan Clark RRT..!  He has been program director of North West Arkansas Community College for many years!  In addition to teaching Alan has been a department manager over the years and has also served as ASRC President!  Help us wish him well on his retirement

---

Click above to download brochure

---
---

Click the link below to cast your nomination for "Clinical Respiratory Therapist of the Year"

Online Nomination Form- Practitioner of the Year

---
---

http://medicine.uams.edu/cme/diamond-conference
---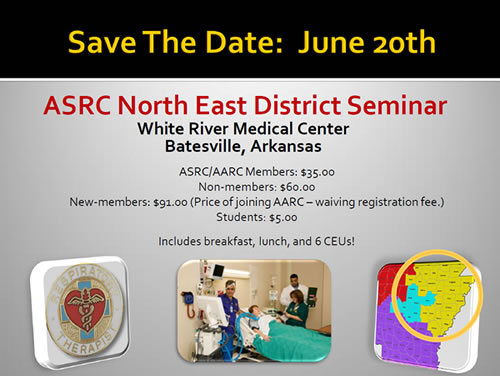 ---
The Arkansas Society for Respiratory Care would like to congratulate the following individuals for their continued support and leadership.
2014 ASRC Election Results:
President Elect – James Gooch
Vice President – Alan Clark
Secretary – Jeff Copeland
Treasurer – Janelle Smith
Delegate – Art Middleton
Central District Vice Chair – Mary Ann Winter-Herring
Northeast District Vice Chair – Janie Castro-Rios
Northwest District Vice Chair – Melina Kindred
South District Vice Chair – Chuck Burke

---
---

The ASRC mission is to provide effective leadership that promotes the Respiratory Care Profession and its skilled practitioners as leaders in the field of pulmonary medicine through patient, community and healthcare provider education.
---